---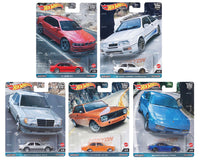 Hot Wheels Car Culture Canyon Warriors (Case of 10) FPY86-959C
Hot Wheels Premium Car Culture Canyon Warriors
1 case contains 2 sets of 5 
**CHASE CARS ARE RANDOM**
ETA - August / September
Mix FPY86-959C
Case Includes:
HKC52 HW BMW M5 E39  x2
HKC53 HW 74 VOLVO 142 GL  x2
HKC54 HW FORD SIERRA RS COSWORTH  x2
HKC55 HW MERCEDES BENZ 500E  x2
HKC56 HW 90 PORSCHE 944  x2
BLACK CHASE CAR IS RANDOMLY INSERTED ( NOT IN EVERY CASE)
**Cases may have to be opened during packing to be more space & weight efficient to keep shipping costs lower for certain countries where shipping is exceptionally high, we will email you before if this is the case**
-To pre order, purchase the item(s) and pay for shipping.  Once the all the ordered items arrive in stock, we will ship your order.
If you do not want the pre order item to hold back your in stock items from shipping out, you need to place 2 separate orders, one for in stock items & and the other for pre order items. 
-If you have already placed an order and wish to make another order to add more items in the same package, you can place a 2nd order and message us that you wish to combine orders.
-Cancellations will result in a 6.5% fee.
- Occasionally the manufacturer will cancel production for various reasons. If this happens you will receive your money back in full.
- We have no control over whether the manufacture will release on estimated arrival time.